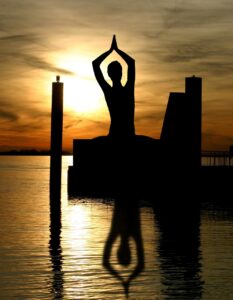 By 2050, it is estimated that almost 25% of the world's population will be over 60 years old and with this aging world population dementia is also on the rise.   Can mindfulness meditation help to stave off cognitive decline and dementia as we age?  Researchers at Wake Forest Baptist Health believe so and found an association between mindfulness meditation and improved cognition in a group of men and women who participated in an 8-week course on mindfulness meditation and yoga. 
Compared to a control group that was put on a "wait list," participants in the Wake Forest Baptist Health course showed increases in the function of the part of the brain that plays a role in memory and learning (the hippocampus). Even though this was a small study, mindfulness meditation is one option that does not require a prescription and can be part of a preventative care plan proposed by general practitioners. Another benefit of mindfulness meditation is that it is easy to learn and use; even participants already suffering from mild cognitive decline can successfully learn and use these interventions. Mindfulness meditation improves attention, memory, executive function, processing speed and general cognition.
Mindfulness Meditation produces promising results for not only those suffering from mild cognitive impairment and dementia, but is also being studied as a strategy to help support the well-being of their caregivers. Caregivers of those suffering from dementia are often faced with the stress and uncertainty of their loved one's cognitive decline and could also be subjecting themselves to increased dementia risk later in life. New interventions are being developed in which both the dementia patient and the caregiver participate in a mindfulness meditation program together. This combination is a win-win for the world's aging population; it boosts the cognition of the dementia patient and it also helps to fight off future development of dementia in their caregivers.
A major advantage to practicing Mindfulness Meditation is that it can help to reduce stress and anxiety in midlife.   Further and interestingly, there is recent evidence (that needs to be further researched) that suggests there may be a link between anxiety in midlife and mild cognitive impairment. Therefore, interventions, such as Mindfulness Meditation, may prove to become highly important therapies for helping individuals to reduce the risk of dementia later in their lives. To learn more, click HERE.
Sources: