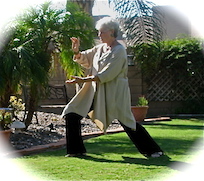 Over the past few months, we've written about how high intensity training is the best anti-aging exercise and non-contact boxing helps Parkinson's disease patients. But, did you also realize that slower exercises, such as Tai chi and Qigong, provide great health benefits?
PG, a Bipolar patient states, "When I practice Tai Chi, the brain fog I get from my medications lifts." JR, who is healing a Schizoaffective Disorder, says, " it is slowing me down, and I am doing everything in a more mindful state with more strength and stamina." Not only that, but these exercises enhance the overall health of everyone. Doreen W, who lives in Scottsdale, Arizona, says "Practicing Tai Chi has been life changing for me. I am happier and have an improved mental attitude and outlook. I am sleeping better. Instead of being stressed out on the job, I find myself approaching problems more peacefully and my concentration and focus have improved."
WHAT ARE TAI CHI AND QIGONG?
So, what are Tai chi and Qigong? They are time-tested slow, mindful movement practices that combine many aspects of Chinese medicine, philosophy and martial arts. No weights… low intensity… and slow mindful movements. Dr. Peter Wayne, director of research at the Osher Center for Integrative Medicine at Harvard Medical School, calls Tai chi "meditation on wheels" because not only does it provide so many mental benefits, such as mental clarity and focus, but it is also a physical exercise.
Rev. Deanne Hodgson, RN. leads Tai chi and Qigong classes in the Phoenix Metro area. She describes Qigong (pronounced… chee gung) as "a 5,000 year-old mind-body practice that cultivates vital energy by integrating movement and breathing techniques and mental focus. Chi/Qi (chee) means breath of life and vital energy that flows through everything in the universe… and gong (gung) means cultivating or working with."
According to Deanne, "Tai Chi (pronounced… tie chee) is a series of Qigong movements—gentle, meditative and self-healing. It can be done sitting or standing by people of every age and physical condition."
WHAT CAN TAI CHI AND QIGONG DO FOR YOU?
Here is a partial list of the many benefits that can be derived from these practices. To learn more, check out Deanne's website HERE.
Decreases stress
Promotes relaxation and inner peace
Regulates blood pressure
Reduces chronic pain
Improves balance and posture
Prevents falls
Inspires creativity
Boosts immune system and promotes healing
Improves mental focus, concentration and memory
Enhances sports performance
Heightens spiritual awareness
So, now, when you see a bunch of people making slow projected martial arts movements in the park, you will know the great benefits that they are getting out of it. Maybe you'll decide to join them… or contact Deanne for one of her classes.
In addition to yoga, high-intensity interval training, non-contact boxing, and other exercises, The Foundation for Living Medicine intends to offer Tai chi and Qigong classes in its future Village for Living Medicine's Sports & Rehabilitation Clinic. So, stay tuned!
TESTIMONIALS PROVIDED BY REV. DEANNE HODGSON, RN
"Practicing Tai Chi has been life changing for me. I am happier and have an improved mental attitude and outlook. I am sleeping better. Instead of being stressed out on the job, I find myself approaching problems more peacefully and my concentration and focus have improved."

Doreen W., Scottsdale, AZ
"I had no idea it would be so easy"

Cheryl K., Sun City, AZ
"I can't believe it, the pain in my back went away!"

Lib W., Phoenix, AZ
"I've been practicing the breathing when I get stressed out driving to work and it really helps"

Karen L, Scottsdale, AZ
"I was so stressed this morning I wasn't going to come and this is just what I needed"

Pam P., Spokane, WA
"I can actually take this peaceful feeling with me when I return to work!"

Peggy R., Phoenix, AZ
"I only wish I could come here and do this every day"

Phyllis W., Spokane, WA
Learning simple Tai Chi movements made my body feel like it had just had a massage!"

Vicki L., Spokane, WA
"Sometimes I'm so stiff from arthritis I don't think I'll come to class, but when I do, I leave feeling so much better I can even tackle many tasks."

Ardith S., Sun City, AZ
"I couldn't believe the difference in my golf game when I applied the Tai Chi principles I learned from Deanne. I used to get angry and now I concentrate on correcting what is going wrong. My game has definitely improved, but more important, I am enjoying it more."

Carl W. , Rio Verde, AZ
"I'm 81 years old and I had no idea how stressed I was until I learned Tai Chi. I now know what peaceful really feels like and I also found that the edema in my feet has gone away."

Gloria T., Hilton Head, SC
"The meditations & movements that I learned from Deanne Hodgson helped so much before & after my recent rotator cuff surgery."

Diana R., Phoenix, AZ
"Through the gentle movements and mind-body practice of Tai Chi, I feel that I am beginning to use my own resources to improve my health."

Elizabeth L, Phoenix, AZ
"I have suffered with significant back pain for several years, and am often restricted in what I am able to do physically. However, I was able to do all of the Tai Chi and Qi Gong movements with no discomfort."

Kathy C., Phoenix, AZ
"This class changed my life! Deanne does such a wonderful job of facilitating everyone in the class in being able to get in touch with their ability to feel energy flow. The breathing techniques I learned have helped me tremendously in stressful situations."

Carol S., Phoenix, AZ
Sources
Why Tai Chi Is As Good For You As Crossfit by Markham Held
You may contact Deanne Hodgson as follows:
DeanneHodgson@gmail.com
http://www.appliedtaichi4u.com