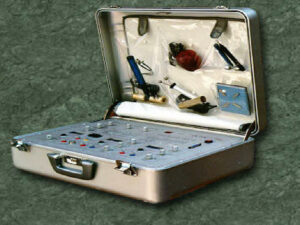 I have had tremendous success with the Acuscope machine which helped me to heal my knee so quickly.  I was introduced to it by Ray Speith.  But, little did I know at the time that it would become my saving grace so quickly after having heard about it.  I had no idea how much it would help me, as my original impression was that it was a machine, just for equine therapy.  
Just 4 days before Christmas in 2015, I was scheduled for Mencius repair on my right knee. I was not worried because I knew that I would be sore, but I would be able to walk out of the doctor's office to recover within a week or so. But, instead, my Mencius repair turned into Micro Fracture surgery and I was off of my leg for 2 months.
Ray had discussed the Acuscope with me and how it could be used… and Dr. Gladys recommended that I try the treatments. After the first treatment, the pain in the area around the surgery wounds was reduced to 10% of the original. I could actually see and smell the toxins that were drawn out of the wound. Ray fully explained the process while he worked on my knee. I could actually listen to the improved circulation around the wounds and throughout the whole knee joint.
I continued further treatments on my knee, and then on my spine and scalp. Each time, I came away with a new appreciation for the energy application to my wound and a clear understanding of the process because of Ray and his complete background knowledge of the Acuscope machine, and its application to healing the human body.
What is an Acuscope machine?
Acuscope is a rehabilitation system that helps to heal muscles. It scans the muscle and connected tendons and ligaments to detect any electrical abnormalities that have been caused by some sort of injury. Then, over a series of sessions, it restores the damaged areas and helps the body to heal. The therapy called 'Myopulse therapy,' has shown to improve many different disorders and ailments.
To learn more about Myopulse therapy and the Acuscope Machine, check out the following frequently asked questions here.
Written by Amy Doyle, Director of Business Development