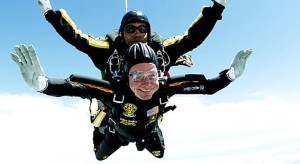 Enjoy the triumph!  Here are two leaders celebrating entry into their 90s.  Former President George Bush jumps out of a helicopter to celebrate his 90th birthday.  Living Medicine visionary Dr. Gladys Taylor McGarey jumped out of a birthday cake on her 90th birthday. She is now a dynamic, adventurous, pioneer at 93, and moving towards her 94th!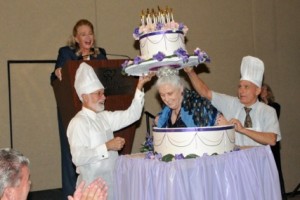 Did you know that the 90s is today's fastest growing age segment? According to the U.S. Census Bureau, the numbers of Americans that are 90-and-older have almost tripled since 1980 to 1.9 million seniors in 2010. And, it is expected to quadruple+ over the next 40 years to 7.6 million in 2050.
At this time, this is the fastest growing age segment of the senior population, but the Baby Boomer Generation (1946-1964) is expected to outpace the 90 group between 2020 and 2030, when the population aged group of 65-89 increases to 32% versus the 90-and-older group increase of +21%. HOWEVER, after that, and when the Boomers age, the 90-and-older group will jump even higher at a walloping +71% pace to a projected 7.6 million in 2050.
Becoming Senior just gets better every day. Do you have any birthday stories? Please share them with us.