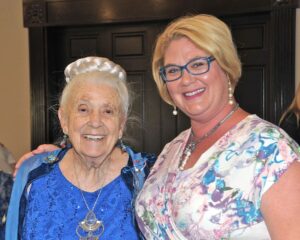 Kristi Hall and her fabulous Conscious Connections Global organization sponsored an evening of conversation with Dr. Gladys on Wednesday, April 19, 2017, at the picturesque Starfire Golf Club in the heart of Scottsdale. The conversation started out with a HEART-FULL introduction given by Foundation supporter and highly respected business leader, Francis Tesmer. Dr. Gladys shared her experiences and stories with the enlightened group of business women.
Conscious Connections Global is an enlightened community of business-savvy women who lead first with heart, consciousness and the unwavering belief that everyone is destined to find and profitably do their work.
Francis Tesmer gave the most lovely and heart-full introduction of Dr. Gladys.
The evening was filled with love, joy, and gratitude. The Foundation wishes to thank Kristi Hall for her gracious hospitality and leadership at forming such an incredible organization. Thank you to Lynne Ericksson for donating her photographs of this evening. Thank you to everyone!